American Lam presents the 2012 O-Lamb-Pics | o-lamb-pians from across the states compete you decide who wins the gold! Vote for your favorite recipe
Grilled Barbecue Lamb Sliders
from Two Recipes
During this time of year,
grilling
is the name of the game. Who doesn't love an outdoor cookout, surrounded by friends, drink in hand, soaking up the last bit of sunshine on a beautiful Saturday evening? No one.
So I always feel a little left out this time of year, living in a studio apartment in the middle of a city. Outdoor space is hard to come by, and in my case is limited to my stoop and sidewalk, neither of which are really conducive to a grill and party…read the complete blog post
---
Lamb, Mango and Avocado Salad
from Lizzy Dishes Portland
I'm a fan of steak salads with blue cheese and tomatoes on a leafy bed of greens.  It's something about eating a "salad" while indulging in red meat.  I love it.  I recently had the opportunity to cook with some lamb, courtesy of the American Lamb Board.  I came up with this summery version of my favorite salad, with a spicy twist.
---
rotisserie leg of lamb
from Casa Resnick
A few weeks ago, the American Lamb Board (yes! we love them) invited me to participate in their Summer O-Lamb-Pics recipe contest. So I figured, what better time to put our rotisserie to good use?
When we got our BBQ last summer, I couldn't turn down the option to upgrade to a rotisserie grill. Just like a new home that promises to be "an entertainer's dream," the rotisserie grill makes you conjure up all those illusions of the grill master you aspire to but will never be. For god's sake, I was planning to rotisserie a turkey on that thing.…read the complete blog post
---
Grilled Yogurt-Spiced Leg of Lamb & Pearl Couscous Salad
from Je Mange la Ville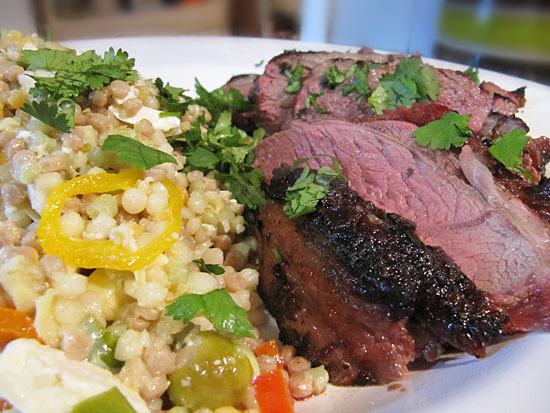 Well, here is my entry to the Fans of Lamb Summer O-LAMB-pics grilling recipe contest. This recipe features a boneless leg of lamb and although I have never grilled a leg of lamb before (I've only oven-roasted), I decided to throw caution to the wind and give it a try. And, I think it turned out pretty delicious.
I used a sort of Moroccan and Indian-influenced spice blend with some yogurt as a marinade and paired the grilled lamb with a pearl couscous salad. So, it's sort of maybe a Mediterranean-Eastern-Savory-Exotic-type thing? Yeah...read the complete blog post
---
grilled lamb paillard with arugula + tomatoes
from Gourmet Recipes for One
This rustic, family-style recipe was created for the American Lamb Board's "Summer of O-LAMB-pics" grilling recipe contest and is perfect for easy entertaining, and a great way to start off the summer olympics. Paillard, which is a term that refers to the quick cooking of thinly-pounded meat, is most often made with chicken or veal, or sometimes beef is used. Here, I used boneless leg of lamb to mimic this traditional recipe in a new way. Grilled tomatoes and fresh garden arugula scattered over the top are all you need to finish off this meal that really highlights the great flavor of the grilled lamb....read the complete blog post
---
Spicy Grilled Lamb Sandwich
from A Boston Food Diary
Lamb is one of those meats that is so under utilized.  Whether people feel that it should only be served in its traditional form, roasted with mint sauce, or if its considered a more holiday meal, it just isn't found that often in new formats.  So, when the American Lamb Board contact me a while ago to enter their contest to start coming up with new ways to serve lamb- I jumped at the chance.? ...read the complete blog post
---
Honey-Glazed Butterflied Leg of Lamb topped with Fresh Fig and Mango Relish
from Capital Cooking
This recipe is not only delicious, but it is made with only 10 ingredients.  The Fresh Fig and Mango Relish makes this a perfect recipe for summer grilling (indoor or outdoor).
Fresh Fig and Mango Relish:
4 cups firm-ripe California figs, washed, stemmed and diced
2 mangoes, peeled and diced
2 tablespoons finely chopped fresh mint
2 cloves garlic, minced
2 tablespoons jalapeno peppers, seeded and minced
2 tablespoons lime juice
1 tablespoon fig balsamic vinegar (or balsamic vinegar)
Salt and pepper; to taste
...read the complete blog post
---
Grilled Lamb Vietnamese-Style Sandwich
from Thrifty DC Cook
I refuse to call this Banh-Mi. The term has been used by too many restaurants and most of the sandwiches they serve barely resemble the beloved Banh-Mi I grew up with. This sandwich is inspired by Banh-Mi and I will consider it a Vietnamese-Style sandwich.
The lamb is great in this marinade. But everything is great with fish sauce, isn't it? ...read the complete blog post
---
Grilled Lamb in Coffee/Molasses Marinade
from Portland Foodie
I grew up in a family that never ate lamb. I'm from Oklahoma, and that translates into beef, beef and more beef. Once I reached adulthood, I had the opportunity to try lamb and discovered I liked it. But once I started cooking it at home, I found I LOVED it. The bottom line is that lamb is one of those meats that really needs to be cooked correctly in order to be enjoyed. Fortunately, it's not at all difficult to cook.
...read the complete blog post
---
Drunken Cherry Glazed Grilled Lamb
from Nomadic Foodie
I was recently asked to participate in a recipe grilling contest that featured lamb as the centerpiece. I've had lamb before, but had never prepared it myself so I welcomed the challenge. Chris and I were sent a boneless leg of lamb from a local Oregon farm, and I immediately knew what I wanted to do with it.
It's cherry season in the Pacific Northwest (today's actually National Rainier Cherry Day!), and I just knew that coming up with some sort of cherry sauce ...read the complete blog post
---